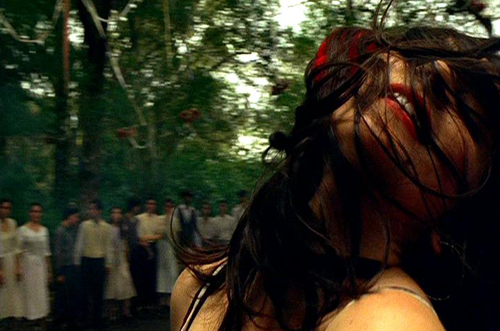 Having been recently labeled an 'academic' writer by Sam Juliano of Wonders in the Dark, dabbling with the questioning of the applicability of Brechtian thought with regard to Buffalo '66, and reading an article about the interplay (or lackthereof) between cinephile criticism and academic criticism by David Bordwell I think it is appropriate that I post something which opens up the possibility for an ongoing dialogue concerning all aspects of my writing here on this site.
In this post: feel free to comment on, start a discussion of, or suggest anything with regard to content, style, or the aim of this blog. Anything is appreciated, including but not limited to recommendations for films to be viewed and written about.
I'll begin with a brief declaration of my own feelings about these subjects as I feel at this point in time. The content of this blog is focused on films that I have seen (and remember seeing) and find exceptional in one or many ways that have elements which can be approached as black comedy. This content stems first and foremost from my appreciation as a lover of art, as a lover of cinema, as a lover of black comedy, and as someone who hasn't found much worth reading on my most beloved narrative form (which is not to say that I am not merely ignorant to its existence). With these premises intact I derive these principles: 1.) I will write only about those films that I find exceptional 2.) I will write only about elements of films where I feel that I can aid in someone else's appreciation of those films. These principles exclude, in my view: negative criticism, synopses, and overreaching attempts at comprehensiveness.
While the content is informed by my ideas of style and aim, I will refer to a piece of David Bordwell's article for further clarification:
The prototypical cinephile piece in effect answers a question like this: "What distinctive qualities of this film can I detect, and how do they enhance our sense of its value?" The prototypical academic interpretation would be answering something like: "What aspects of the film are illuminated by my theoretical frame of reference?" I think, however, that we academics can make progress in understanding cinema if our questions are more specifically and self-consciously formulated.
If I were to describe my aim in this blog I would paraphrase it as a blending of the two: 'What distinctive qualities of black comedy can I detect, and how are these aspects illuminated both by my theoretical frame of reference and by my own personal appreciation in order to enhance the reader's sense of its value?' As such, I feel like my aims are those of a cinephile, specifically a lover of black comedy, and by segregating out the films that I love I can then apply academic tools to further enhance the overall experience. Thus far I think I have tended to wax rhapsodic less than I am typically wont to do, but that, too, is informed more by the personal mood of someone attempting to satisfy his own feelings about how best to approach love of and writing about cinema than a purely academic stance. As such, I feel like the degree to which my writing is found to be academic is merely an offshoot of my attempts to satisfy my feelings as someone who is at heart writing 'cinephile pieces', to paraphrase Bordwell. I have probably waxed rhapsodically most successfully with regards to the films I love and know the best thus far in this blog, but I could probably do more. I believe that thus far I have attempted to identify certain recurring traits within the selected films to justify the films' inclusion together, to create an understanding of black comedy through the way these recurring traits function, and to document my own discoveries of the recurring traits mentioned, and all of this can come off as more academic than will probably be the case in the coming months. I don't see this evolution as a problem, but it is something to be aware of. The aim informs the style and content, but I'm sure it can get lost somewhat in the particularities of my style and my own understanding of the content and my own feelings. Here's hoping for more and better, for your sake.