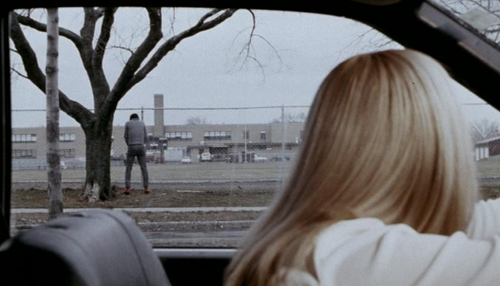 Images stolen without permission from

Moon in the Gutter.
Without having a clue about what to expect, especially given a fair deal of past experience with Vincent Gallo and all of it being of a wildly unpredictable nature, I loved Buffalo '66. Almost immediately, actually. The film's opening dilemma, the search for a bathroom which results in an escalating sequence of ridiculous yet despicable actions, is a refreshingly clever way to begin a film. The anti-climax is frequently found in black comedy, and this film's opening minutes are driven by something which cannot possibly be climactic, and of course isn't, but which subtly introduces the mix of absurdity and abrasiveness which comes to dominate the film. This mix carries through even to the last moments, as when Gallo's Billy calls back his friend, rescinds his recent bequeathal of a locker, and concludes by threatening the friend. It's silly, it's completely tactless, and by that point it is difficult to expect anything less. Part of the magic of the film is the way that Gallo subverts the initial harsh image of Billy as a criminal to an 'innocent' not by softening his image but by reframing his actions from those of an irredeemable criminal to those of an irredeemable asshole with a completely distorted way of approaching the world. These distortions don't result in a complete opposition to normalcy, though, merely a brash alternate route to what is essentially the same destination.
Another part of the film's magic, and for me the most intriguing part of the film, is the way in which Gallo uses aesthetically and tonally divergent sequences sporadically throughout. As the film fades in my memory the particular details of these sequences dissolve away into the mist, but they feature prominently enough throughout the film that it is difficult to not notice them. Among these sequences are extended dance sequences, a distinctly lit vocal performance sequence, and an out-and-out fantasy sequence. The distinct aesthetic shifts in these scenes cause them to stand out, and Gallo only enhances this contrast through various cinematic techniques. When Ricci dances in the bowling alley the lights dim for her performance and come back on without cutting. This contrast is willfully imposed on the film through Gallo's refusal to 'explain away' the scene as a mere insight into the psychology of Ricci's character, and thus these shifts in aesthetic become an essential part of the whole rather than a subset of Ricci's character. The shifting in lighting, an effect which is usually accomplished through a cut in standard filmmaking and then 'explained away', here lays bare the artifice and opens the film's language up to incorporate completely distinct dimensions whose 'seams' are exposed to the viewer. This technique could be called Brechtian by some, but that's certainly not the only option. The film's narrative structure alone accomplishes a great deal of reframing the audience's approach to what they are initially presented with, as explained in the previous paragraph, although it is certainly possible that these stylistic divergences add extra dimensions to that effect. Brechtian theory is not enough to explain the effect of Gallo's aesthetic choices, though, as his aesthetic choices serve also to heighten and render the sequences unreal. If the film consisted entirely of this sort of plasticization then the aesthetic itself might perhaps be completely and entirely opposed to Brechtian theory by entrancing the audience and preventing critical distance. As such, the way in which Gallo creates a contrasting aesthetic dimension within the film without commenting on that dimension opens up multiple and otherwise contradictory possibilities of exploring the minute details inside the artifice and laying bare the artifice itself. Thus, within the framing of Brechtian schisms Gallo fabricates an independent aesthetic mode where the world is shaped in such a manner to more fully entrance the audience in fantasy. This doesn't even begin to touch on the film's 'base' aesthetic within which the film exists for the majority of its runtime, an aesthetic which is at times aggressively disconcerting in the way the camera can at times be both catatonically static on both ends of a disconcerting cut to a different location, as when a dinner scene is filmed purely in static shots from alternating sides of a dinner table, but which presents the film in a light far more reminiscent of 'realism' than in the previously mentioned sequences. Perhaps this is the defining characteristic of Gallo's aesthetic in this film: a dedication to a broad range of options which are nonetheless starkly and visibly delineated. Somehow this delineation merges the effects of otherwise contrasting cinematic modes, providing both the dreamlike stupor of Hollywood plasticization and the awareness of that artifice – all as a bonus to the film's (surprisingly beautiful) central aesthetic mode which itself contains contrasting elements which captivate and unsettle in equal measure.
What I feel like writing here about this film is probably better served by broadening the scope and perspective, so I will create it in a new post, but it should be noted that the following post is very relevant to the writing in this post and in this blog in general.